Maple Woods Manor
Clio, MI
Maple Woods Manor is a 151 bed skilled nursing facility located in Clio, Michigan in Northern Genesee County. Maple Woods proudly offers complete extended care nursing and rehabilitation services to the community of Clio as well as Flint, Frankenmuth, Saginaw and other surrounding areas.
Maple Woods specializes in joint replacement services as well as short-term rehabilitation services, allowing residents a clear pathway to return home. Our full-time therapy staff offers physical, occupational and speech therapies.
Maple Woods' nursing staff includes 24 hour nursing services, individualized restorative nursing programs, as well as a Care Transition Team to follow each resident through the rehabilitation process and to ensure a successful transition back into the community. Maple Woods also provides the services of 2 full-time social workers to identify and assist with the needs of both residents and families.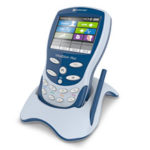 Maple Woods has a dedicated VitalStim certified Speech Therapist. VitalStim® Therapy is a specialized treatment for patients with difficulty swallowing. VitalStim® Therapy is a non-invasive therapy program using Neuromuscular Electrical Stimulation. Used in addition to traditional swallowing therapy, VitalStim can increase the recovery time from a restricted diet, and help patients when previous attempts at dysphagia therapy had failed.
Services & Amenities
Convenience, comfort & support from our family to yours.
Services
24-Hour Licensed Nursing Care
Certified Nursing Assistants
Dental & Audiology Services
Dietary Services
Hospice Care
Lab & X-ray Services
Medicare & Medicaid Certified Assistance
Occupational Therapy
Pet Therapy
Pharmacy
Physical Therapy
Podiatry
Speech Therapy
Vision
Amenities
Barber/Beauty Salon
Beautifully landscaped grounds & courtyards
Cable TV & Wi-Fi Available
Laundry Services
Private and semi-private rooms
Recreation Areas & Activities
Religious Services
Resident/family visiting rooms
Secure home-like setting with air conditioning
Spacious dining rooms with home-cooked meals
Map & Contact Information
For more details about our rehabilitation programs and facility offerings, or to schedule a tour, please contact us.
Maple Woods Manor
Nursing & Rehabilitation Center
13137 North Clio Road, P.O. Box 40
Clio, MI 48420
Phone: (810) 686-2600
Fax: (810) 686-8405